The Benefits Of Milk & Milk-Based Skincare Products
Milk has always been one of the world's most popular foods and is now widely being used in the skincare industry – for a good reason! It is rich in nutrients and contains skin-friendly proteins and minerals that can help improve skin health and elasticity.
From helping reduce wrinkles to restoring skin balance, milk has everything you need to keep your skin looking and feeling its best. In this post, we'll discuss the following:
The role of milk in skincare
The best way to use milk in your skincare routine
The benefits of milk in a beauty product
Does drinking milk help with skincare?
What is the role of milk in skincare?
Milk has numerous health benefits. It has powerful nutrients that are necessary for mental and physical well-being. Milk's high calcium content makes it a recommended food for people of all ages, as it helps to strengthen the bones, but did you know that milk can also help with various skin issues?
Milk contains some of the most beneficial nutrients for your skin. Its application to the skin is said to make it healthy and glowing. Milk's goodness was used in ancient times to preserve the skin looking youthful and luscious. Milk is now used in various skincare products due to its moisturizing and nourishing qualities.
Here are some of the benefits that milk adds to skincare products.
Benefits of milk in a beauty product
Did you know that milk is able to address various skin conditions, like acne, dry skin, etc.? Here are some reasons why milk makes an excellent ingredient for skincare products!
Milk significantly adds to the product's ability to treat acne
Milk contains lactic acid, which removes acne-causing bacteria and deep cleanses pores. This eliminates dirt and impurities that accumulate on your skin's surface throughout the day.
So, using milk cleansers or face masks can help treat acne and reduce inflammation caused by pimples, resulting in clear and smooth skin.
Milk has powerful moisturizing properties
Flaky, dry skin can cause your complexion to appear dull, and sometimes no amount of moisturizer seems to help. Milk can assist in resolving this issue. Its powerful moisturizing properties hydrate flaky skin and leave you with baby-soft skin.
Milk acts as a gentle exfoliator
Milk contains beta hydroxy acid, an exfoliating agent. When applied topically, this gentle yet effective acid exfoliates the skin. It easily sloughs away dead skin cells, revealing smooth and glowing skin beneath. This evens out skin tone and gets rid of blemishes.
Milk is an anti-aging agent
If you're looking for an effective, natural ingredient to help prevent fine lines and wrinkles, you can never go wrong with skincare products that contain milk.
One of the advantages of milk is that it stimulates collagen production, slowing down the signs of aging. Additionally, vitamin D in milk promotes skin elasticity, rendering your skin a lasting youthful, refreshed appearance.
Milk fixes uneven skin tone
Undesired tan and irregular skin tone are two of the most common skin concerns among women. This can be remedied by using milk-based skincare products.
Lactic acid eliminates dead skin cells and brightens and lightens the skin by removing the damaged top layer. This is why, with continued use, milk-based skincare products will correct uneven skin tone.

What is the best way to use milk in your skincare routine?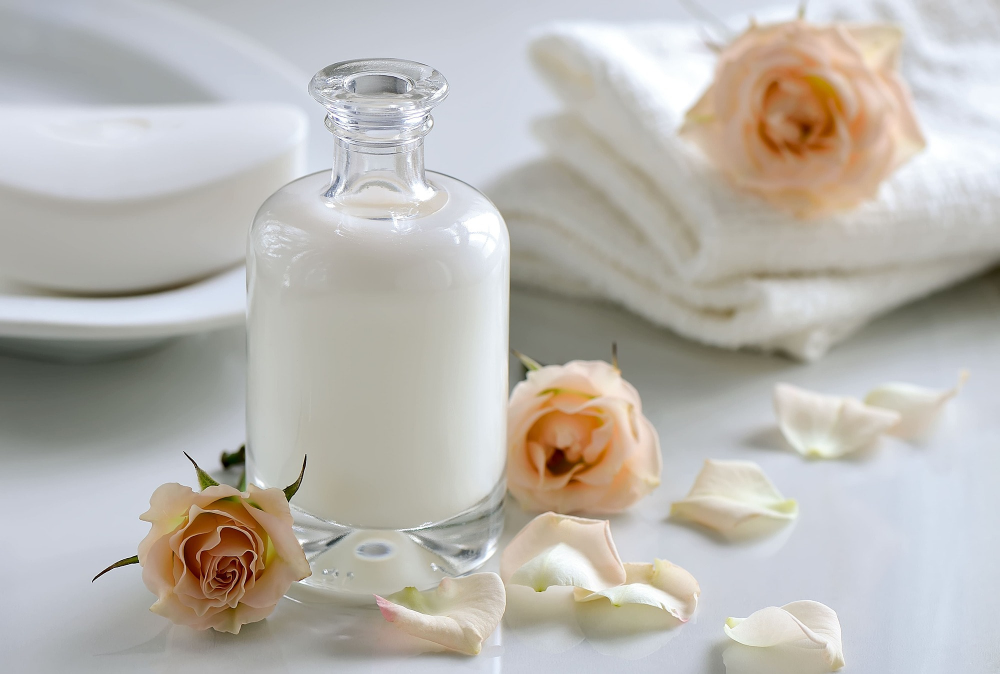 Now that you've learned about the wonders of milk for your skin, you're probably wondering about the best ways to incorporate this amazing ingredient into your skincare routine. From toners to cleansers and spot treatments, here's how to use milk to get the best skin you've ever had!
Milk cleansers
Cleansing your face with milk cleansers can be pretty advantageous. Apart from effectively removing impurities from your face, it does not remove natural moisture.
The Soothing Milk Cleanser Malaysia from Dr Goh Cosmeceutical keeps your skin moisturized and nourished. It also aids in the removal of gunk and other dirt lodged deep within your pores, which significantly prevents pore clogging.
Milk toners
Have you ever considered using milk toners? Milk is a great base ingredient for toners, as it is suitable for all skin types. It benefits the skin by toning and treating irregular skin complexion and improving the elasticity of your facial muscles.
Milk masks
A significant advantage of milk is its ability to combat signs of aging, like delaying the formation of wrinkles and fine lines and making the skin appear supple and smooth. So, using a face mask containing milk will keep your skin moisturised for extended periods while slowing down the signs of aging, keeping your skin looking young and fresh.
Are you looking for an effective milk-based cleanser for your face? Check out Dr. Goh's Soothing Milk Cleanser Malaysia today!
From reducing wrinkles to promoting healthy skin tone, milk-based skincare products cover it all. The benefits of milk in skincare products are endless. With its anti-aging, pigmentation fighting and skin-nourishing properties, milk is a must-have in your skincare routine! To harness all the benefits, you can buy milk-based skincare products like face masks and milk cleansers in Malaysia.
If you're looking for an effective milk cleanser in Malaysia, check out Dr. Goh's Soothing Milk Cleanser Malaysia – a creamy cleanser that gently removes all traces of makeup and impurities from dry, sensitive skin. This milk cleanser contains soothing and softening properties derived from botanical plant extracts, leaving skin refreshed, soft, and moisturized, and it's free of fragrance and harsh chemicals!
For more information, contact Dr. Goh Cosmeceutical today.